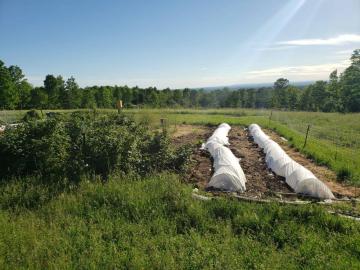 We have a lot of new plants coming up in our garden and greenhouse! We have spent a lot of time working on planting, weeding, broadforking, scything, and mulching, and our hard work is all paying off! We owe it all to our Lord.  Everything is growing by His will, and when good things happen, we know it's because of Him. God gives us the rain and sunshine to help the plants grow, and even the strength in our bodies to be able to work the soil.
We have peas, beets, carrots, garlic, arugula, swiss chard, and cilantro all coming up in the garden. We had a good harvest of asparagus already, and our lettuce, kale, and radishes are ready to be harvested. Our herb corner is doing well and has already been put to good use for cooking. We have thyme, oregano, dill, chives, rosemary, parsley, lavender, basil, and much more! The greenhouse has tomatoes, peppers, cabbage, kale, cucumbers, and lettuce. We transplanted a lot of our seedlings into the greenhouse and it stays toasty in there! It's like a natural sauna and the plants are adjusting well.
Jesus tells us in Matthew 4:4 "Man shall not live by bread alone, but by every word that proceeds out from the mouth of God." Without the Word of God, we would not be able to sustain ourselves, even with all the wonderful things growing in the garden. The Word nourishes us, and we feel empty without it. It gives us peace, hope, healing, and a sense of belonging to something greater than ourselves.