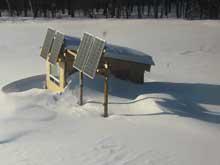 There is plenty of snow to go around for everyone. The Solar Panels provide 1500 watts of energy to our 675 amp hour 24V battery system year round.
This year we ran our power tools for the construction of a new goat shed and are looking forward to many more interesting building projects.
In March of 2015 we had snow that had drifted chest high. If you like to cross country ski and tear down hills in a toboggan then this is the place for you.
Would you like to join us in the adventure of learning about renewable energy, enjoying the cozy nature of a wood stove in a small cabin in Maine?