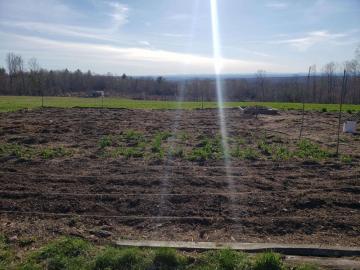 Today was the perfect day for planting, so that's what we did! The peas and beets are in the ground, and we pulled up a lot of weeds and found tons of dandelions. Those will be great for making tea and putting in salads. We used the broadfork to loosen the soil and added some rich compost. There are chives and garlic already coming up in the garden that returned from a previous year. We also have three trays of seedlings started indoors. So far we have broccoli, kale, sweet peppers, basil, jalapenos, three different kinds of cabbage, and more!
Yesterday the fencing went up for the sheep and they are out to pasture. They are enjoying the green grass and space to run and play. This is paradise to them. It reminds us of Psalm 23, "The Lord is my Shepherd, I shall not want. He makes me to lie down in green pastures; He leads me beside the still waters."
There is a lot of joy in planting a garden. Being self sustainable takes work but is rewarding. It's "feel good" work that makes you feel as though you accomplished something, and gives you a healthy sweat. It's a learning curve when planting something new but working together and helping each other makes a difference. In everything we do, we give thanks to the Lord.