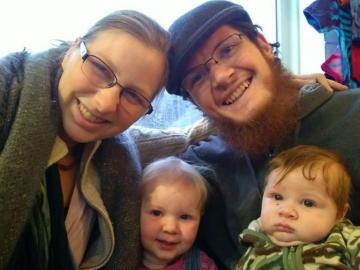 The Kellogg family arrived in time for the busy spring and summer season. They were a wonderful blessing to the farm and it was wonderful to have them here to help.It was sad to see them leave at summers end.
Keagan - Known as the "farm mechanic" and "residential researcher", Keagan helped out in many ways around the farm. He loves to tinker and make things work but even greater is his desire for sharing knowledge with others. A graduate of Pensacola Theological Seminary, Keagan has extensive education which includes a Master's Degree in Bible Exposition, a BA in Pastoral Ministries (with an English minor) and studies in medical coding, computer hardware and vehicle mechanics. As an avid student of Shotokan karate and the bagpipes, Keagan has many talents and passions. His family comes first and his children are his pride and joy!
Sarah- Often called "Earth Mama," Sarah is busy with mothering all on the farm. Whether it be children, sheep, kittens, or goats, Sarah loves to nurture and care. She is very natural minded and loves all things pregnancy and birth. Sarah holds an associate degree in Midwifery and an associate degree in Biblical Studies. Spending two years in the Philippines as a missionary greatly expanded Sarah's knowledge and view of life. She enjoys blogging, cooking, music, crafts, working with creation, and she loves life on the farm with her family!
You can check out more about them at www.ouryurtifullife.com!